A new joint project by the Reserved brand, Joanna Okuniewska and Agencja Słucham is being launched: a podcast entitled "Ja i moje przyjaciółki idiotki" ["Me and My Idiot Friends"] by Joanna Okuniewska in sign language. It is the biggest project of its kind in Poland to date, aiming to make attractive content more accessible to a wider audience.
Joanna Okuniewska is one of Poland's best-known podcasters. She created, among others, "Tu Okuniewska" and "Ja i moje przyjaciółki idiotki", which still top the Spotify and Apple podcast listenership charts in Poland, with a total of over twenty million listens across all podcast platforms. 'Me and my idiot friends' in particular won the hearts of listeners, treating life, feelings and even difficult issues with Okuniewska's characteristic reserve and sense of humour. In 2020, a book with the same title was released.
When creating "Me and My Idiot Friends", I was really focused on inclusive language – says Joanna. – I kept saying that everyone, regardless of gender, age, sexual orientation or background, wants to love someone. We want to feel loved, to trust someone, we want to share our everyday life with someone and be sure that we don't have to "deserve" love. Some time ago, while watching Alicja Szurkiewicz, sign language interpreter, at work during an award gala, I was delighted with her expression, but at the same time realised that, although I tried to make the "Idiots" very accessible, podcasts as a medium are not for everyone – and that's how I decided to change that. Having realized just how much impact we, as influencers, have online, I knew I had to capitalise on this and invite to the "Idiots Club" everyone who, for reasons beyond their control, simply couldn't hear them.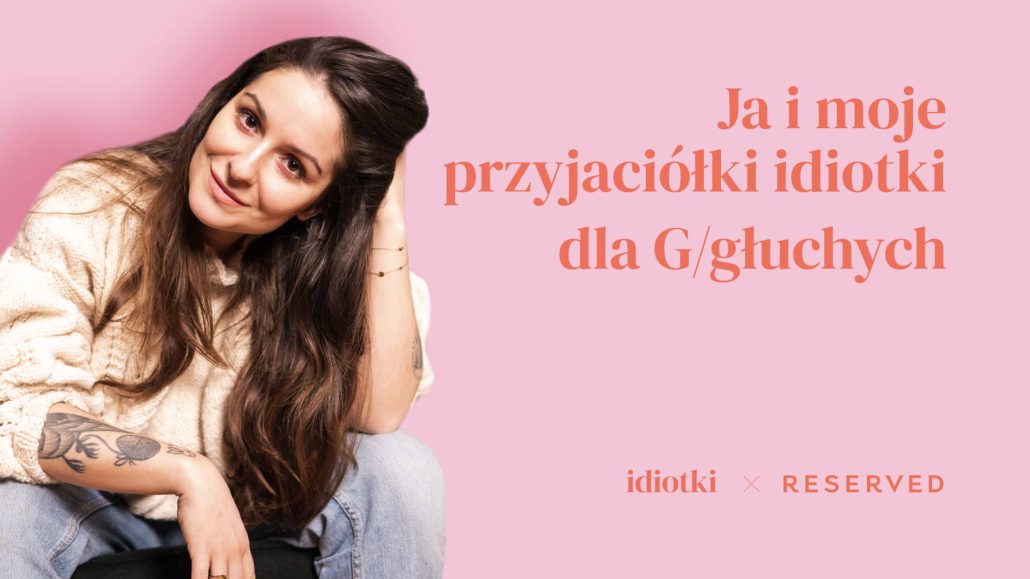 The idea of a sign-language podcast came about after recording one of the episodes of "Sharing is caring" produced in partnership with Reserved. There, Angelika Kucińska and Aga Kozak talked about people with disabilities and the fact that often popular content, for example lifestyle- or fashion-related, is not adapted to the needs of such people. In the YouTube version of the podcast, subtitles for the deaf were added, but Marta Niemira from Agencja Słucham suggested taking this idea further and expand significantly. – Asia Okuniewska wrote the other day: "Why not do a version of the podcast with sign language? There are loads of 'Idiots' who are deaf. After all, they also fall in love, crave intimacy, and they miss out just because they are deaf" – she says. – However, sign language interpreting of 52 episodes would require quite an investment, both in terms of time and money. As Agencja Słucham puts podcasts, creators and brands at the centre of its activities, Niemira once again proposed a collaboration with Reserved. The brand has a lot of social activities to its credit; this project was the best fit – she adds.
– We have been focusing on empathetic marketing for some time now, we want to be close to our target groups, set new standards for fashion brand communication. We try to listen, talk and use our abilities to engage in cool projects that resonate with people's needs. In doing so, we focus on non-standard activities: after the outbreak of the pandemic, together with Fundacja Itaka, we launched the Youth Helpline, which we recently extended for another year, and after the outbreak of the war we translated our podcasts into Ukrainian. Inclusivity should manifest itself not only in the visual sphere, but above all in actions. This is what we are currently working on in our strategy – explains Rafał Gruszkiewicz, Digital & PR Communications Manager of the Reserved brand.
Okuniewska's podcasts are interpreted into sign language by Alicja Szurkiewicz, CODA (Child of Deaf Adult), a professional Polish sign language interpreter since 2010. Since 2019, she has been an interpreting coordinator at Fundacja Kultury bez Barier. Together with the Foundation, she works for the accessibility of events, products and multimedia. Her passion is interpreting music. – It's an amazing feeling to see your own podcast in sign language – says Okuniewska. – I've been asked many times if I'd like my podcast to be translated into English – I haven't felt the need until now. I am absolutely delighted that we can tear down certain barriers to remove limitations, exclusions. It's great that "Idiots" can now be viewed – I hadn't dreamed of this possibility!
The graphic design was consulted with deaf people, as there are a number of rules to avoid distracting from the main message. The colour scheme and typography refer to the cover of the podcast and the book "Me and My Idiot Friends", the background is plain, as is the interpreter's outfit. Strict dress codes for sign language users are followed: clothes should be uniform, preferably in a dark, neutral colour, with no accessories or accents. In all episodes, Alicja is wearing clothes by Reserved.
Joanna Okuniewska's podcast interpreted into sign language will premiere on 18.11.2022 on the YouTube platform. All episodes will be available immediately, simultaneously in audio and in sign language.
'
______________________________________________________________
LPP is a Polish family business and one of the fastest growing clothing companies in the region of Central and Eastern Europe. For 30 years, it has been successfully operating in Poland and abroad, offering its collections in such prestigious capitals as London, Helsinki or Tel Aviv. LPP SA manages five fashion brands: Reserved, Cropp, House, Mohito, and Sinsay, whose offer is available today in stationary and online stores in nearly 40 markets worldwide. The company has a chain of over 1700 stores with the total area of 1.4 million m2 and distributes clothing and accessories to 3 continents every year. LPP also plays an important role as it employs over 24 thousand people in its offices and sales structures in Poland, Europe, Asia, and Africa. The company is listed on the Warsaw Stock Exchange in the WIG20 index and belongs to the prestigious MSCI Poland index.