The global sourcing and distribution network of LPP is centrally managed and covers operations based on its own infrastructure as well as in cooperation with logistics operators. This network consists of an integrated system of Distribution Centres as well as Fulfilment Centres – each playing and important role in the implementation of logistics processes.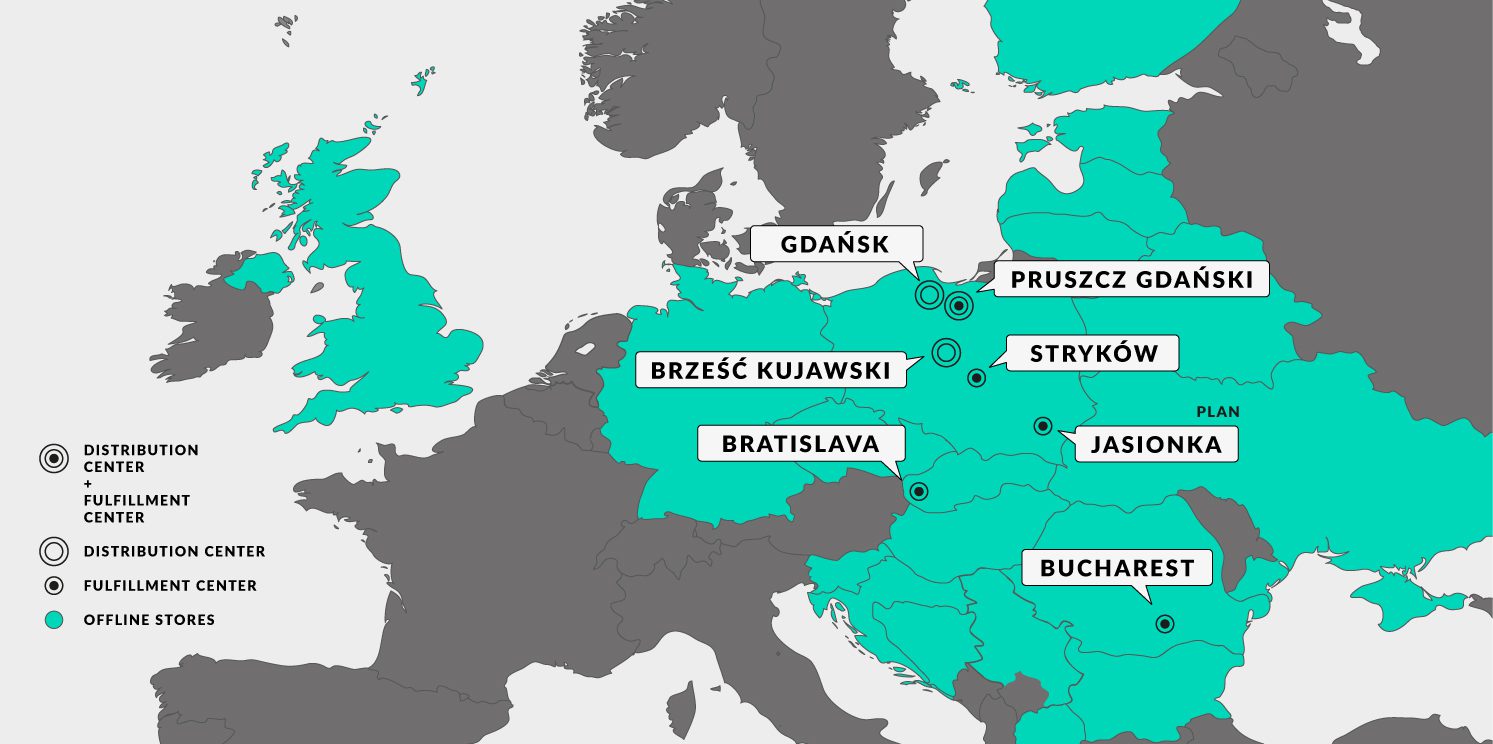 DISTRIBUTION CENTRES
Distribution Centres are a key element of our logistics network, constituting the link between the supply and distribution systems. This is where all shipments from our suppliers arrive. They are then verified and stored to ensure timely and continuous delivery for the entire distribution system, including the brick-and-mortar chain and Fulfilment Centres for online sales. In the distribution centres, our goods are prepared for sale – e.g. sorted according to the orders placed by individual stores, packed, and refreshed. Here, too, RFID clips are encoded.
DC – PRUSZCZ GDAŃSKI
The LPP Distribution Centre in Pruszcz Gdański was established in 2008. In the years 2013-2015 the facility underwent modernization. In 2020, its extension was completed. Currently, it is one of the largest and most state-of-the-art distribution centres in Central and Eastern Europe. Its area amounts to 100,000 m2. The centre handles deliveries to over 1,800 brick-and-mortar stores located in Europe and the Middle East, as well as to regional Fulfilment Centres.
DC – BRZEŚĆ KUJAWSKI
Distribution Center with an area of 75 thousand m2 launched in 2022 in response to the intensive development of the company. The facility is adapted to serve stationery stores and ship up to 8 million items of clothing and accessories per week. The warehouse is equipped with automation solutions that enable the handling of deliveries to 1,000 stores at the same time.
DC – GDAŃSK
Distribution Center with an area of 30 thousand m2 supports operational activity of LPP brick-and-mortar stores in Poland and Central and Eastern Europe.
FULFILMENT CENTRES
Fulfilment Centres (FC) are responsible for fast order processing for our online store customers. This process consists of receiving and placing goods in the picking area, picking, packing orders and shipping. The right quantity, location and capacity of each FC allows us to offer the highest level of service, including delivery to customers the day after order placement.
FC – PRUSZCZ GDAŃSKI
A warehouse (64,000 m2 ) is the biggest LPP Group Fulfillment Centres. It is located nearby the Pruszcz Gdański Distribution Centre and handles online orders and returns. What is more, the FC realizes domestic and international shipments – to Germany, Ukraine, the Baltic States, Italy, and Spain.
FC – STRYKÓW
The Fulfillment Center with an area of 46,000 m2 is located in Stryków close to Łódź, just by the main highways. It realizes shipments within Poland and in the region of Central Europe. Yearly, the number of shipped products reaches several hundred million pieces.
FC – ROMANIA
A centre of the area of 43,000 m2 supports the e-commerce operations of all LPP brands in the region of South-Eastern Europe. Additionally, it carries out cross-deck operations – supplying stores in Romania and Bulgaria.
FC – SLOVAKIA
A warehouse facility with an area of 32,000 m2 acts as the so-called Fulfillment Center and is dedicated to logistic support for online sales in Slovakia and throughout the Central European region. It is equipped with a modern system for automatic sorting, which optimizes the process of completing and shipping orders.
FC – PODKARPACIE
A warehouse with an area of 69 thousand m2, located in Jasionka near Rzeszów, is the largest logistics facility dedicated to e-commerce. It supports online sales in Poland, the Czech Republic, Slovakia, Slovenia, Hungary, Ukraine and the Baltic States.