Our goal
Strategy
Our goal is to continuously develop LPP and transform it into an increasingly sustainable company that responds to today's climate challenges.
LPP is a Polish family business
We are constantly improving our offerings and adapting them to changing customer expectations. We are increasing the availability of our collections by expanding our network of stationary showrooms (increasing retail space y/y) and online stores.
We are developing in the spirit of the omnichannel concept so that our customers have full access to products regardless of the sales channel. At the same time, we are constantly meeting the challenges of the world around us in both technological and environmental contexts. In order to pursue such a development plan for LPP for the next few years, we have based our strategy on three pillars: omnichannel model, digitalization and sustainability.
Omnichannel organization
LPP is an omnichannel organization in which traditional and online sales are fully integrated. We are committed to providing our customers with the best possible shopping experience, whether they choose to purchase our collections in stationary stores or online. That's why we are developing both channels in parallel and making sure our offerings are presented consistently.
Our priority is:
Further development of our 5 clothing brands (Reserved, Cropp, House, Mohito and Sinsay) located in the moderate price range or in the Affordable Fashion Retail segment, dedicated to different target groups;
Increasing the accessibility of our brands' offerings by simultaneously expanding our stationary retail network and online offerings so that our customers can interact with our brands where, when and how they want through integrated channels.
LPP development through brands
We focus on winning new customers and increasing the satisfaction of existing ones. We started building our portfolio with the Reserved brand, whose first store was established in 1998. Currently, we already manage five brands, each dedicated to different target groups. We offer collections for women and men, but also clothing designed for children and teenagers.
Reserved, Cropp, House and Mohito rank in the moderate price range, while Sinsay ranks in the Affordable Fashion Retail segment. At the moment, we have no plans to create new brands. We are focusing our efforts on developing the brands currently in our portfolio, with a particular focus on Sinsay. Originally dedicated to teenage girls, the brand now has a range of fashionable styles for young women and men as well.
Sinsay also offers collections for moms, as well as products and accessories for children. The brand's assortment is complemented by home furnishings and a line of makeup and beauty products. The good market reception of the new Sinsay concept and the accompanying intensive development of the stationary network mainly in small towns, will affect the successive growth of Sinsay's share in LPP's brand portfolio in the coming years.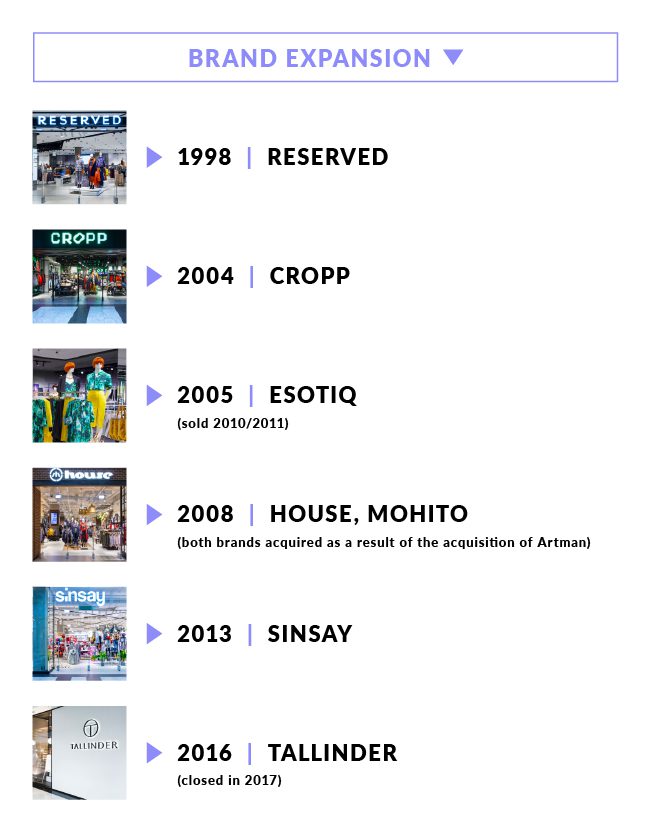 Development through offline and online retail network expansion
Development through brands would not be complete if it were not accompanied by the expansion of our retail network, both stationary and online. Our goal is to diversify the Group's revenues, i.e. Maintaining the current position in the domestic market, but also increasing the share of foreign sales especially in the European Union region. Today, in addition to Poland, we are present in six geographic areas on three continents, each with different growth prospects:
LPP originates from Poland and this market remains its most important area of business activities. It generates the majority of the company's revenue. Taking into account the maturity of this market and the vast retail network, we mostly focus on maintaining the importance of the LPP brands, refreshing the concept of the stores and expanding the retail floor space. We are going to work on developing the retail network but focus on the younger brands.
Central and Eastern Europe (CEE), which includes countries such as: Poland, the Czech Republic, Slovakia, and Hungary. Due to the well-established presence of all our brands in this area, we consider it to be a mature market. Therefore, the focus here is mainly on developing the stationary network in smaller towns where we see development potential for younger brands, especially Sinsay. We are expanding the traditional store chain mainly through retail parks, but also through high street stores. In parallel, we are modernising the stationary network in large cities and successively expanding and refreshing store concepts in order to fully implement the omnichannel model and adapt our stores to new market requirements and customer expectations.
The countries of the Baltic Sea Region (BSR), where our brands are currently present include Lithuania, Latvia, and Estonia. We regard all the three countries, as well as the CEE markets, as mature and hence focus on developing younger brands in smaller towns, mainly in retail parks.
The Eastern region i.e. Ukraine, Belarus and Kazakhstan. Due to war in Ukraine, our development in the Eastern part of the continent has been put on hold.
South-Eastern Europe (SEE) i.e. Bulgaria, Romania, Croatia, Serbia, Slovenia, Bosnia and Herzegovina, North Macedonia and Greece are markets with high growth potential for all LPP brands. We are gradually expanding our stationary network there, and we plan to continue strengthening
Western Europe (WE) i.e. Germany, the UK, Finland and Italy, are countries where we want to strengthen the position of our brands and develop our retail network.
The Middle East (ME) i.e. Egypt, Qatar, Kuwait, the United Arab Emirates, and Israel. Our presence with Reserved brand in this region is based on cooperation with a franchise partner. At the same time, we continue to sell online through external sales platforms.
In response to changing customer preferences and behaviours and the ubiquitous digitalisation and transformation in retail, our omnichannel strategy involves a holistic approach to both sales channels, i.e. traditional and online. As a result of the situation related to the outbreak of the COVID-19 pandemic, the qualitative and quantitative development of the online channel has become a priority for LPP. The inseparable elements supporting the development of the online channel are logistics and technology which determine the success of e-commerce and customer satisfaction. For this reason, our company focuses its activities on expanding its distribution network (distribution centres and warehouses dedicated to e-commerce services, i.e. fulfilment centres) in Poland and abroad and gradually increasing the share of state-of-the-art technologies in logistics and customer service processes.
At the end of 2022/23, our brand offerings were available in a total of 39 markets, including 27 offline and 34 online countries.
Digitization of organizations
We operate in the fashion sphere, but at the same time, in response to the revolution we are seeing in the apparel industry, we are a technology company. We develop IT solutions tailored to our needs ourselves. We implement modern technologies of the so-called. Fashion Tech throughout the value chain, from product through logistics and sales. We have our own analytical facilities to understand mega trends and customer expectations. This allows us to respond flexibly and quickly to changes in shopping preferences and to design collections tailored to the current needs of our customers. Without the digitalization of our organization, the implementation of LPP's business strategy would not be possible.
As part of our Fashion Tech activities, we focus our efforts on using modern technology to:
Continuous improvement of the collection according to the expectations of our customers,
expanding the range of sales and after-sales services in line with global trends in the retail industry,
Increasing the flexibility of our distribution network,
Full integration of traditional and online channels in the spirit of omnichannel strategy.
LPP sustainability
In an era of growing awareness of the importance of responsible business, elements of our concern for the environment – the environment and people – are reflected in LPP's strategy. We base the company's development on balanced rules for all company processes.
Our sustainability strategy is responsible fashion, that is, thinking about our collections not only through the prism of garment design, production, distribution, use, but also giving our clothes the so-called "sustainable" look. of a second life after its use by customers is complete.
This comprehensive approach is our response to the current climate challenges. Each year, we want to effectively reduce LPP's negative impact on the environment, but also to educate our customers and business partners on how, together, we can effectively take care of the planet for the sake of ourselves, but also for future generations.
In 2019, we announced LPP's second Sustainability Strategy "For People For Our Planet" scheduled for implementation from 2020 to 2025, based on four pillars: design and manufacturing, elimination of plastic, chemical safety, and infrastructure and buildings. This is our program of activities and goals we have set for the near future, but also a manifestation of responsibility for our environment.
Sustainability is also the company's pro-social activities, the vast majority of which we carry out through our LPP Foundation, established in 2017. We help disadvantaged children and young people and the sick. We also support medical facilities and organizations caring for people at risk of social exclusion.