LPP as one of the most important companies for Poland according to "Rzeczpospolita"
15.09.2022
"Rzeczpospolita" daily has once again selected the winners of the "Most important companies for Poland" ranking. LPP was distinguished among the Polish enterprises of the greatest significance for the for the Polish economy. In this year's edition of the competition, the Polish clothing manufacturer took third place in the "Non-financial companies" category.
In the competition organised by "Rzeczpospolita" 250 companies of key importance to the Polish economy were evaluated. The assessment was carried out in a modified formula and consisted of two stages – analytical one and a vote by editors-in-chief and heads of economic departments. In the analytical stage, companies were carefully evaluated from the point of view of their activity, based, among others, on the company's share in Poland's GDP, the share of taxes in the company's revenue and the average salary in the company in relation to the average salary in the economy. In the second stage, the ranking's editorial board awarded points, taking into account factors such as economic, social and innovative growth, as well as the development of economic expansion beyond national borders. The sum of the points obtained in both stages of the competition made it possible to select a list of awarded companies of key importance to Poland. Among the recognised companies, in third place, in the category of "Non-financial companies" was the Polish family company, LPP.
– We are pleased that the competition's jury appreciated our development and activities on the domestic and foreign markets. As a Polish family company with future generations in mind, we cherish the values that have guided us since the beginning of our operations. We are particularly focused on supporting our economy and, although we have an international presence, we will always remain a company with Polish roots. That is why we pay taxes here and invest in projects that are important for the country, we cooperate with Polish subcontractors and contractors, and promote the quality of the Polish brand on foreign markets – emphasises Przemysław Mitraszewski, LPP's external relations director.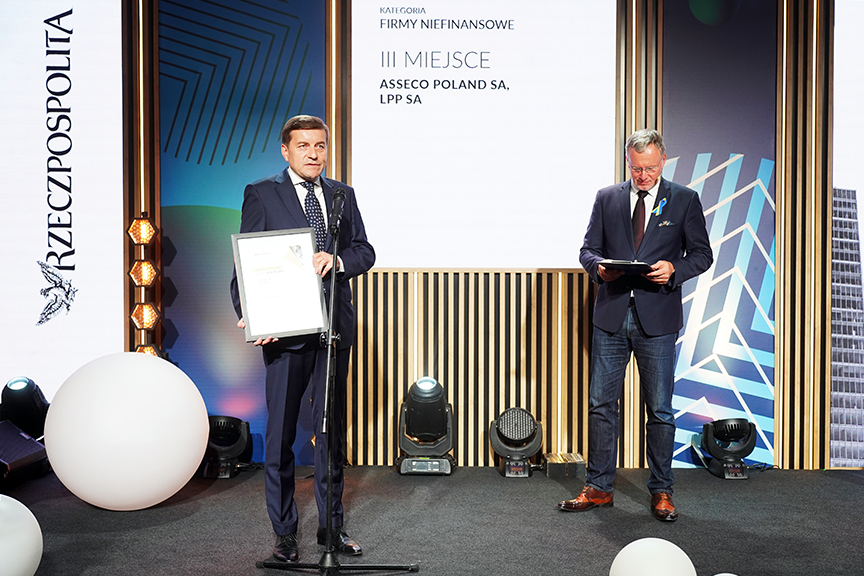 Photo – Bartek Dąbrowski, fototaxi.pl/"Rzeczpospolita"
___________________________________________________________________________
LPP is a Polish family business and one of the fastest growing clothing companies in the region of Central and Eastern Europe. For 30 years, it has been successfully operating in Poland and abroad, offering its collections in such prestigious capitals as London, Helsinki or Tel Aviv. LPP SA manages five fashion brands: Reserved, Cropp, House, Mohito, and Sinsay, whose offer is available today in stationary and online stores in nearly 40 markets worldwide. The company has a chain of over 1700 stores with the total area of 1.4 million m2 and distributes clothing and accessories to 3 continents every year. LPP also plays an important role as it employs over 24 thousand people in its offices and sales structures in Poland, Europe, Asia, and Africa. The company is listed on the Warsaw Stock Exchange in the WIG20 index and belongs to the prestigious MSCI Poland index.