We engage in long-term activities that bring tangible social benefits. Creativity and commitment of our volunteers are the aspects we value very highly. We are particularly fond of projects implemented in our immediate surroundings, which are targeted at groups particularly at risk of social exclusion, namely children and young people. Also, our response to changing circumstances is flexible and, when required, we get involved in projects important at a given moment.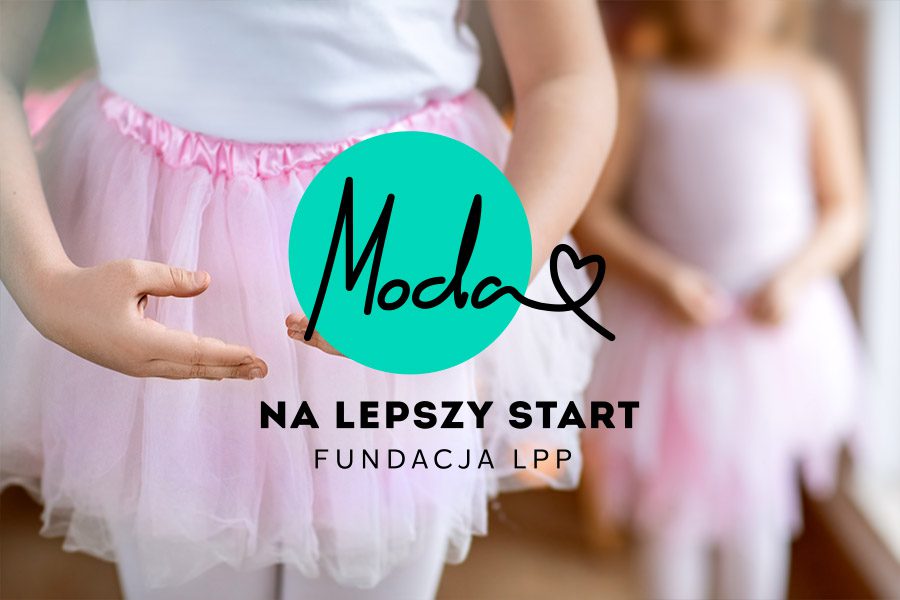 Fashion for a Better Start
"Moda na lepszy start" ["Fashion for a Better Start"] is our proprietary social program addressed to the children of homes for children of the Gdańsk Foundation for Social Innovation, the "Rodzinny Gdańsk" Foundation and the Foundation for the Family "Ogniska Nadziei". In 2021, we donated PLN a quarter of a million to activities for 240 beneficiaries of Gdańsk organizations, giving them the opportunity to develop skills and passions and a better start into adulthood. Thanks to our co-financing, from September 2021 to January 2022, a total of over 3,000 hours of educational, therapeutic and development activities were carried out for children from 17 homes. The donated funds were also allocated to the necessary treatment for the charges of Gdańsk foundations. The first effects of the pilot and a positive response from the program participants contributed to our decision to continue "Moda na lepszy start" and to double the budget for this purpose in 2022.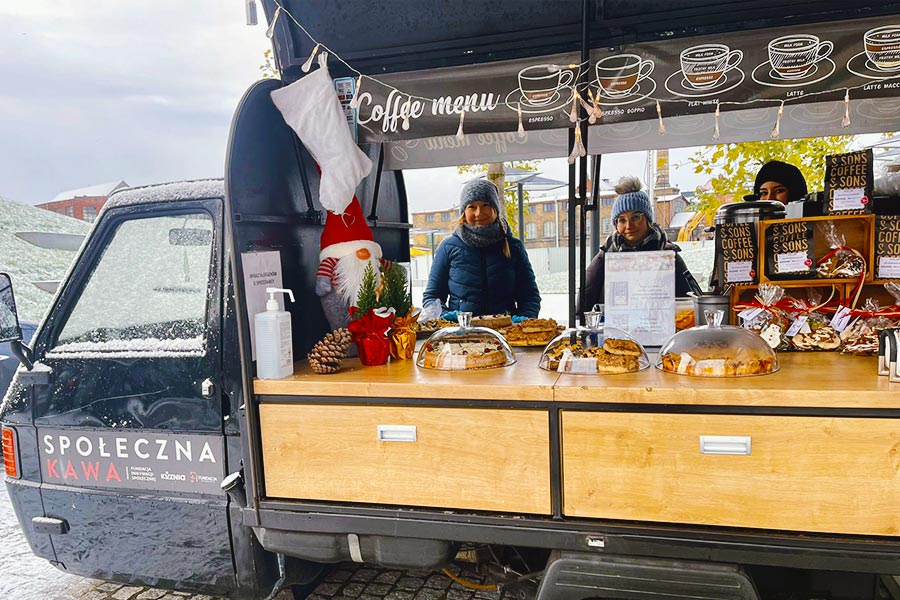 SOCIAL COFEE IN LPP
For years, we have been supporting people in need, in a difficult life situation and at risk of exclusion. An important area of activities undertaken for our immediate environment is the support of social economy entities. Such an entity is the Foundation for Social Innovation, with which we have been cooperating for 10 years. In 2021, we got involved in the project of the mobile Cafe "Kuźnia", which is the place of first contact with work for young people from care and educational institutions. We invited the Foundation to 5 of our offices in Gdańsk and Pruszcz Gdański, enabling the sale of products among employees at a time when the operation of the cafe was hampered by the pandemic. In this way, we disseminate the idea of the social economy among our stakeholders.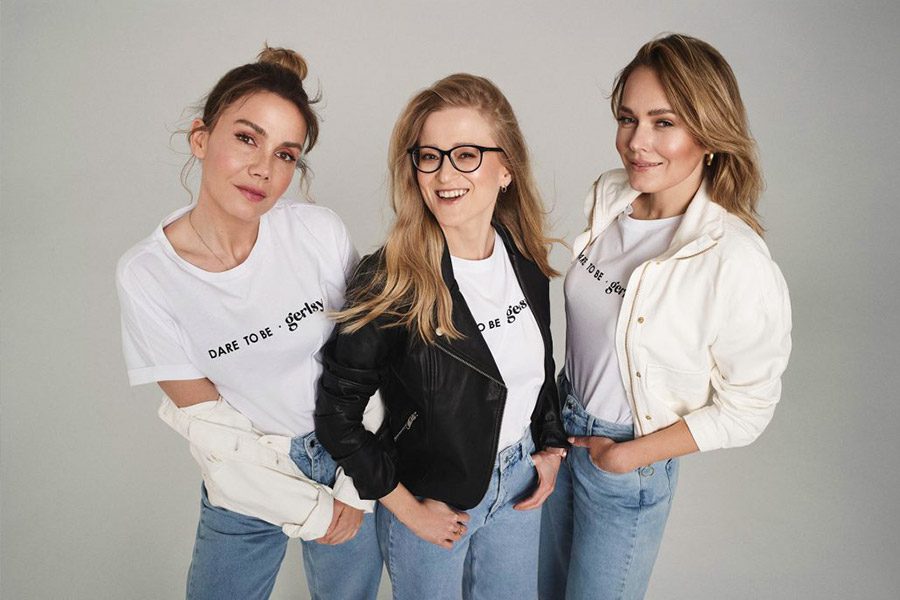 COMMITMENT OF FASHION
BRANDS
Our fashion brands engage in social activities. Reserved and the Itaka Foundation joined forces in a charity campaign to combat the psychological effects of the pandemic. Since the beginning of the Telefon Zaufania Młodych (Helpline), there have been 6,175 phone calls, 1,706 chat sessions and 655 online counseling sessions for young people in need of support. MOHITO and the Gerlsy Foundation have created a limited edition of T-shirts with the Gerlsy logo. The income from their sale increased the activities of the Gerlsy Foundation. Under our patronage, a series of free workshops on the development of self-esteem, coping with stress and improving self-presentation techniques was recorded.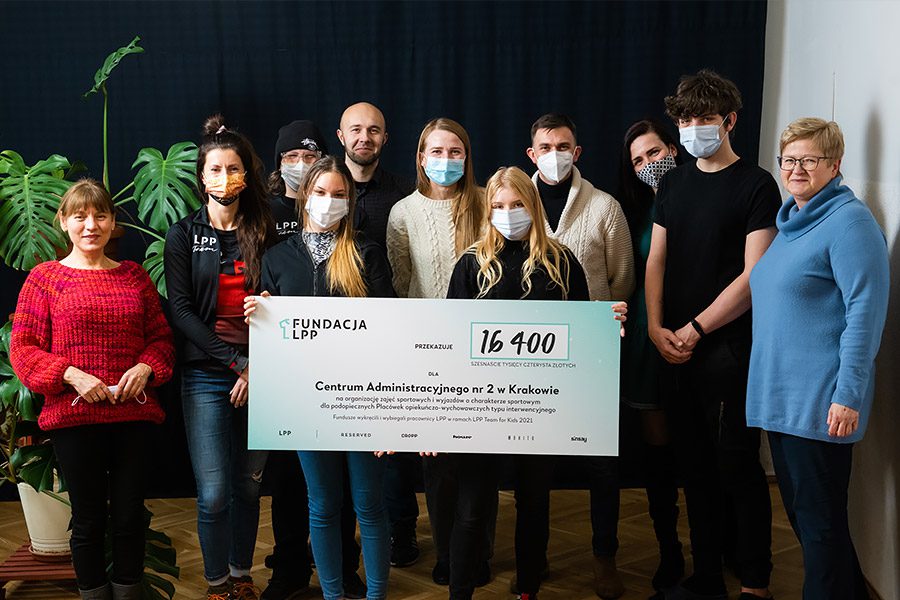 LPP
TEAM
We also use our energy and leg strength for doing good things. Our employees – not only who are members of the LPP Team sports enthusiast group – each year support a sports charity, under which the LPP Foundation converts the kilometers travelled and run during the year into PLN. We transfer the selected amount for each kilometre run or cycled and we distribute the fund among the charges of the foundation from Pomerania and Małopolska. In 2021, we traveled a total of 66,000 km on bikes and we ran 8,000 km. The collected money went to two organizations: the Foundation for the Family "Ogniska Nadziei" in Gdańsk (PLN 32,800) and the Administrative Centre No. 2 in Krakow for intervention-type care and educational institutions at Naczelna 12/1 and 12/2 (PLN 16,400).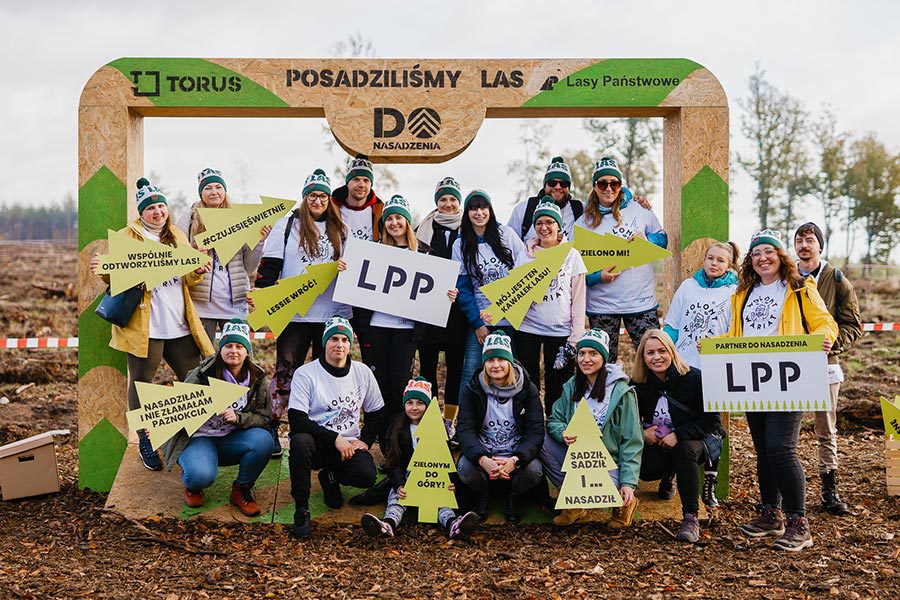 DO NASADZENIA
[''TO BE PLANTED'']
We are a partner of the "DO NASADZENIA" event organized by the TORUS company. Its goal was to rebuild the forest in Lipusz, which was destroyed by a storm in 2017. In 2021, together with approximately 1,000 employees of Tri-City companies, we recreated a 10-hectare forest. Over 40 LPP employees took part in the action.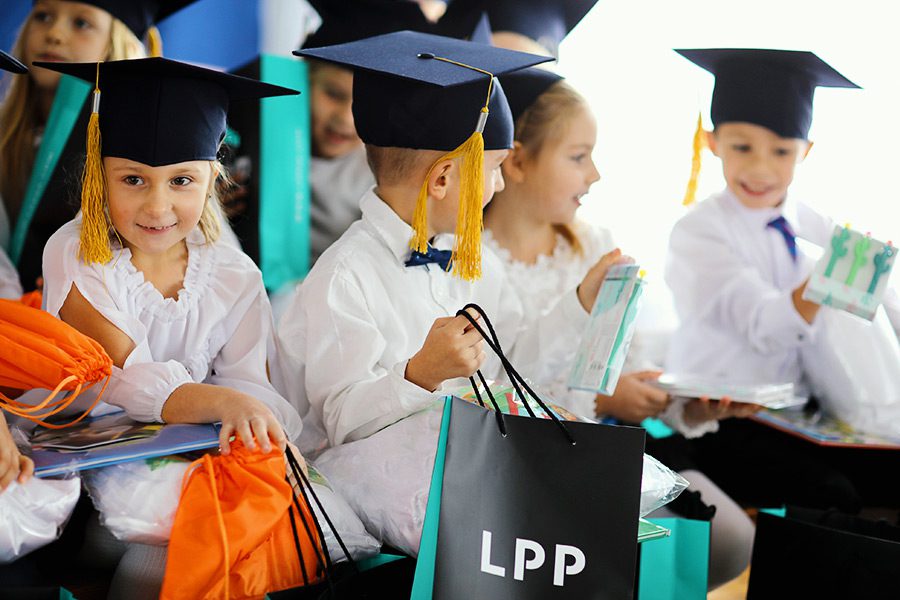 BRZEŚĆ KUJAWSKI
IN THE SPOTLIGHT
A project carried out since 2019, aimed at activating the local community of the Brześć Kujawski in the area of education, culture and recreation. As part of the program, there are organized cyclical projects such as "Wyprawka dla pierwszaka", in which first-graders of primary schools located in the commune receive school supplies and gifts from LPP. LPP also finances educational projects for local primary school youth, such as English language, robotics, Polish language and mathematics lessons. Every year, LPP is also involved in cultural and sports projects in the commune, aimed at building positive models among children and adolescents and encouraging the young generation to sport and compete in a healthy way.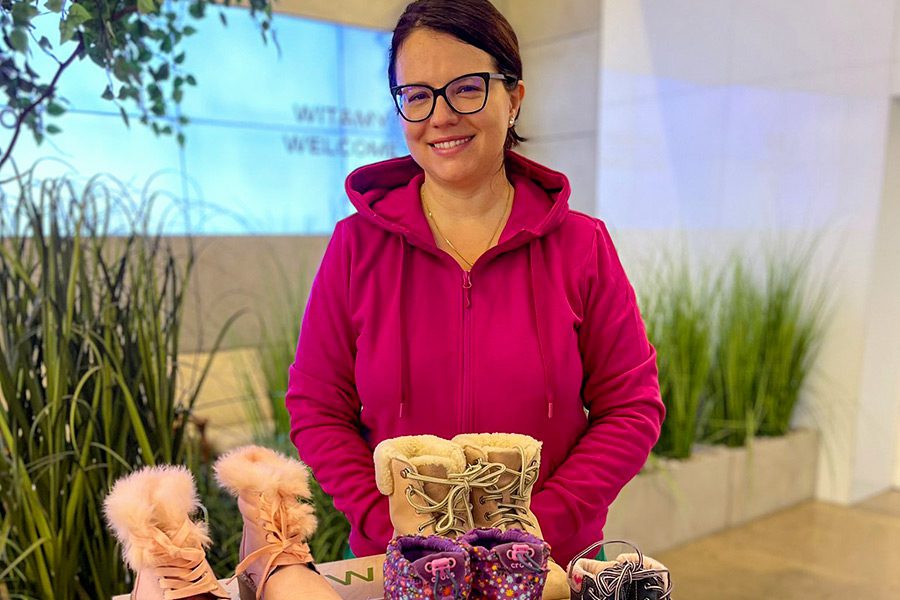 WE GIVE CLOTHES
A SECOND LIFE
We work with a positive impact start-up (WoshWosh) – we joined the spring ("Przekaż wiosnę") and autumn ("Zbiórka obuwia dla bezdomnych") shoe collection organized by WoshWosh, inviting our employees to bring their unused shoes in good condition to LPP offices. In this way, we gave footwear a second life, contributing to the initiative to care for the planet and showing solidarity with those in need. The collected 800 pairs of shoes were sent to WoshWosh, and then, after disinfection, it was sent to, among others to incl. to St. Brother Albert's Aid Society, Gdańsk branch, the Bread of Life Community in Warsaw and Kraków, and the "Prometeusz" Care and Resocialization Association in Gdańsk.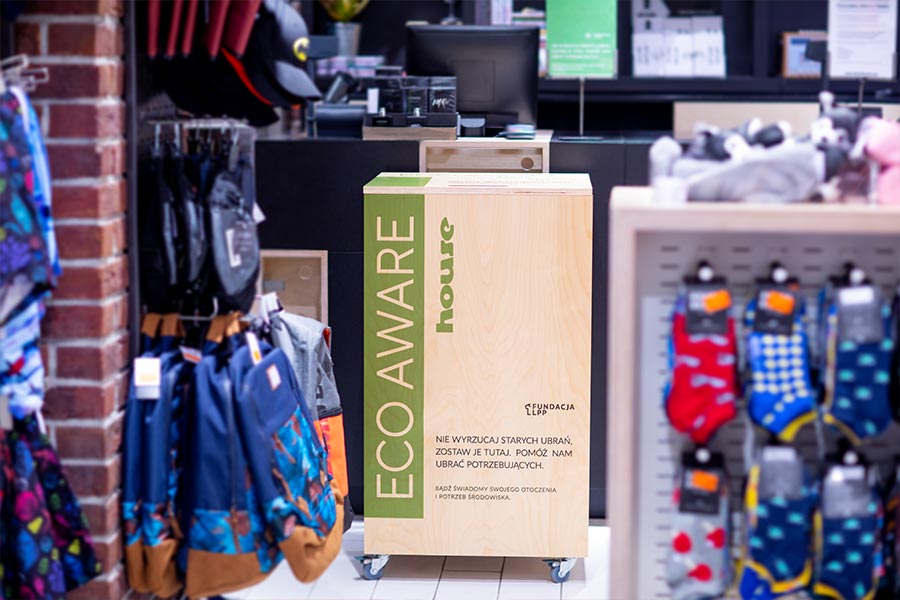 ECO
AWARE
Eco Aware is a textile collection that we started in 2018 in the largest Reserved stores in Poland, and in the following year the House and MOHITO brands joined. Anyone can give away unnecessary clothes there, regardless of the label. It is important that the clothes are in good condition and can be reused. By the end of 2021, we had collected over 8 tons of clothes, which the LPP Foundation donates to St. Brother Albert's Aid Society running night shelters all over Poland. Clothes are given to people in a homeless crisis and in a difficult life situation.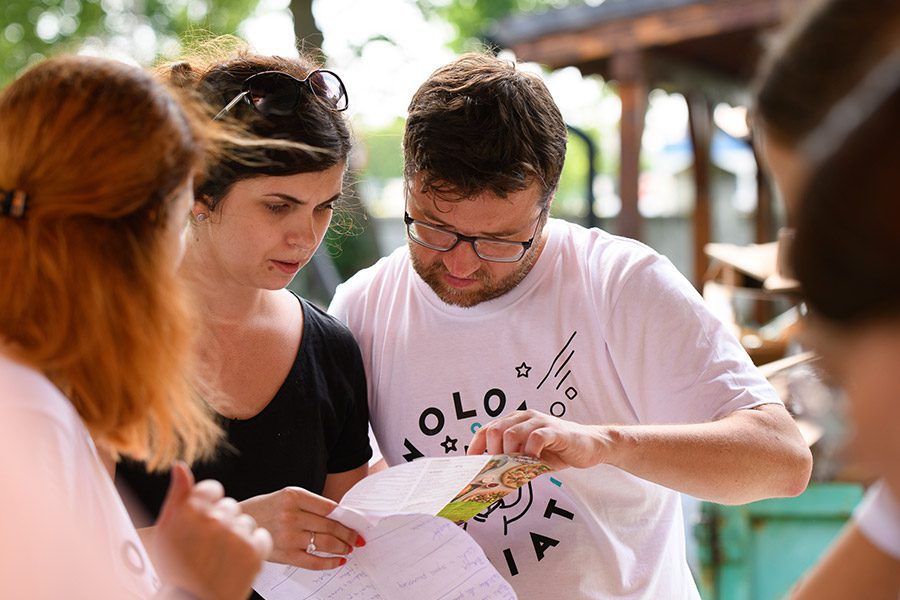 VOLUNTEERING
Our employees have been involved in employee volunteering for many years. Such activity serves our development and is an opportunity to get to know each other and strengthen relationships at work. Sharing our time, talent and skills – regardless of the position held – is simply rewarding. For this reason, many of us engage in regular activities or even permanently join the WolontWariaci team. We also invite business partners cooperating with us to help more and more often.
RENOVATION OF THE CHILDREN'S
HOME IN MALBORK
We have been cooperating with the "Rodzinny Gdańsk" Foundation, which runs children's homes in Pomerania, for over 10 years. In just one week, we organized a comprehensive renovation of rooms for 28 people under our care and equipped them with new furniture. The Sinsay brand also joined the campaign, providing children with additional interior accessories. This is our next charity campaign that showed the power of volunteering and the sense of helping.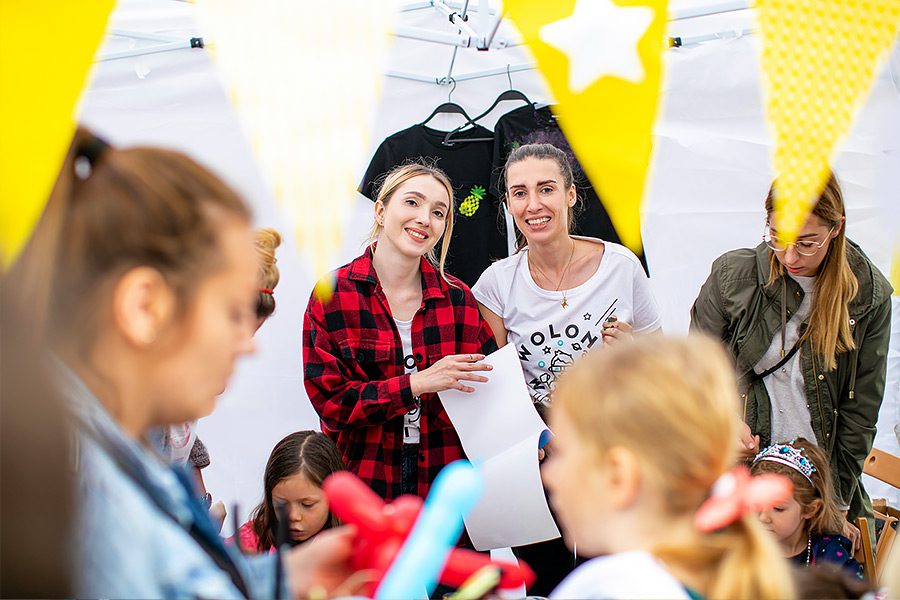 SUMMER ON DOLNE
MIASTO WITH LPP
In august 2021, a neighbourhood festival took place near the historic tram in Dolne Miasto in Gdańsk. We organized the event together with the centre for Social Activity Centre in Dolne Miasto of the FOSA Foundation. We joined forces by engaging in activities activating the local community, in particular children and young people at risk of social exclusion. The program included, among others, puppet theatre, dance and drumming classes. Our volunteers from the LPP Foundation contributed their donation by organizing workshops on the design of t-shirts and bags that participants took home with them.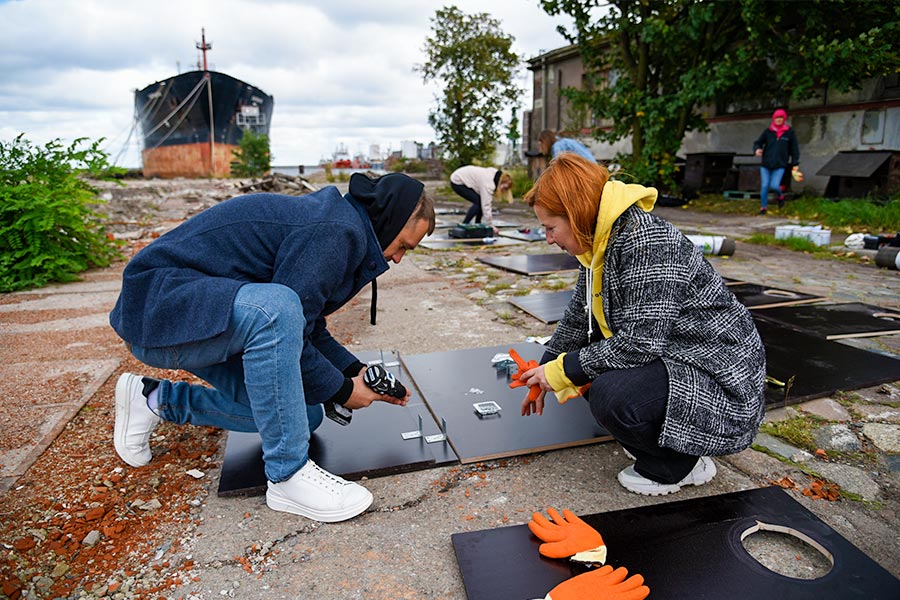 CAT HOUSES
AW2021
There are many animal lovers at LPP who devote their positive energy to helping them. Therefore, in 2021, for the fourth time, we organized a volunteer initiative called "Kocie Budki", which consisted in the renovation and insulation of kennels located in the former Stocznia Gdynia S.A. Thanks to this action, more than 120 cats living there will spend the next winter in comfortable conditions.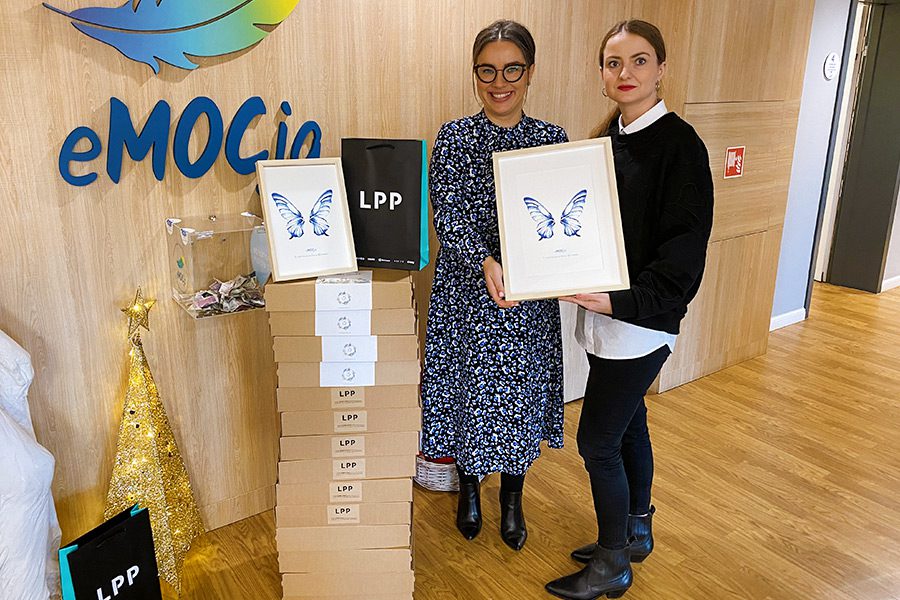 MINIGRANTS
We have been implementing the minigrants program since 2019. This is a special form of employee volunteering, under which our employees can propose their own projects in the following areas: education, safety, culture, health, ecology, social and sports activities, diversity and impact on the work environment at LPP. Two editions of this campaign took place in 2021: the summer edition, under which 3 projects were implemented, for the amount of PLN 40,000, and the winter edition, under which 11 projects, for the amount of PLN 55,000, were implemented. In total, we allocated PLN 95,000 to the implementation of initiatives in 2021, which went to local communities.
Support was given to, inter alia, charges of the MONAR Rehabilitation and Adaptation Center for Children and Youth in Gdańsk, animals under the care of, among others of the Lower Silesian Animal Protection Inspectorate in Jelenia Góra and the Association of Paka dla Zwierzaka, Branch in Gdańsk. LPP volunteers also organized the Christmas Good Art Auction, as part of which support was given to eMOCja – Holistic Support Center after Loss.
PREVIOUS PROJECTS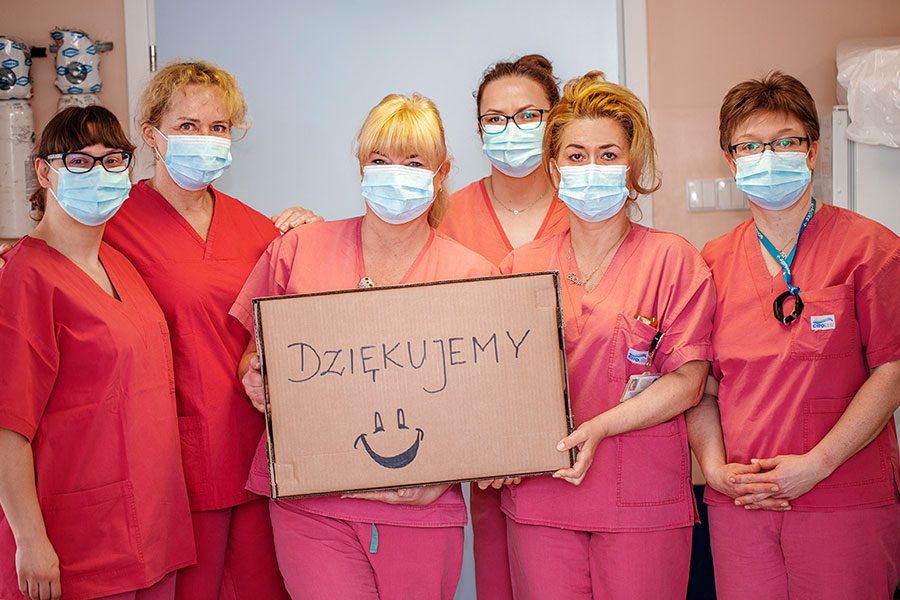 #LPPpomaga
#LPPpomaga is a support campaign in the fight against the COVID-19 epidemic of medical facilities and the most deprived people. For this purpose, in spring we allocated nearly PLN 5.7 million, donating, among others, one million protective masks for over 300 medical facilities throughout Poland. In addition, thanks to cooperation with nearly 50 organizations, over 27,000 cotton masks and 1,660 protective aprons, sewn by LPP employees, were delivered to the neediest. Along with the growing demand, we expanded our support beyond Pomerania and Małopolska, reaching centres located in other regions of the country.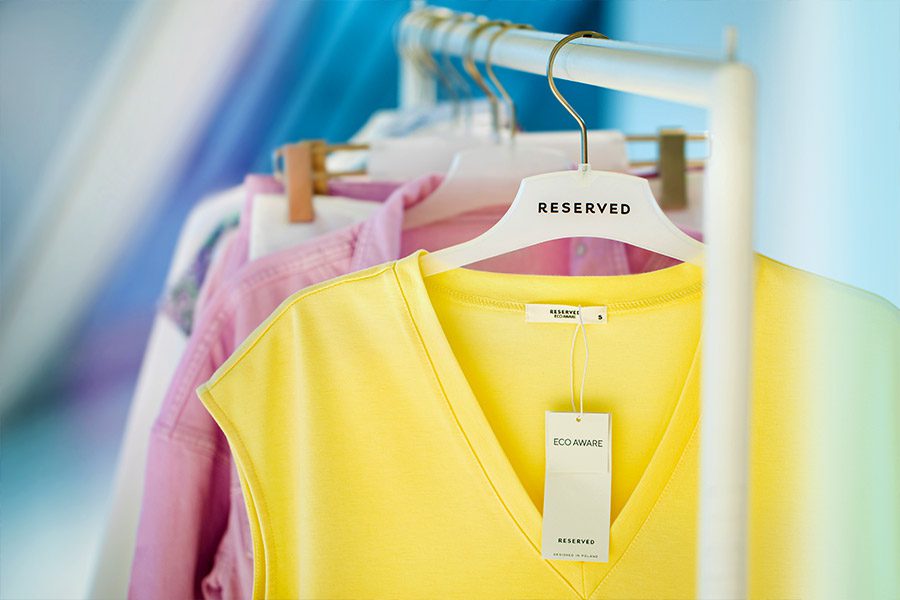 CLOTHING BRANDS IN
#LPPPOMAGA ACTION
Our clothing brands were also involved in aid actions in 2020, and they allocated for this purpose over PLN 240,000 from the sale of the Joyful and Eco Aware collections. We also directed our charity work to people and organizations in the immediate vicinity of the company. Thanks to this, we provided over 870 lunches to seniors from Dolne Miasto in Gdańsk.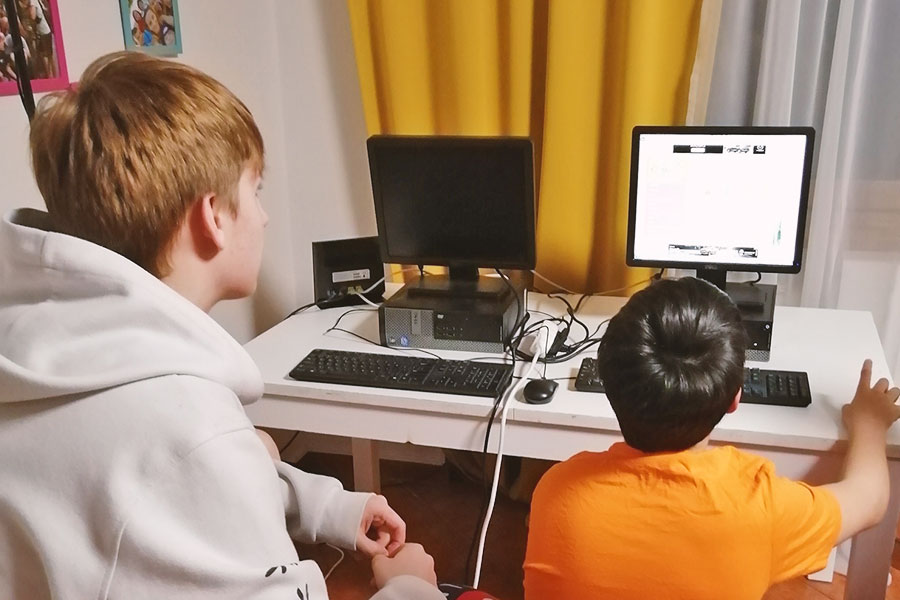 HOME COMPUTERS
FOR CHILDREN
We donated 100 computers to 18 children's homes in Pomerania and Cracow, thanks to which 150 pupils could continue their e-learning. Since the beginning of 2020, we have provided financial and material support to those most affected by the coronavirus epidemic.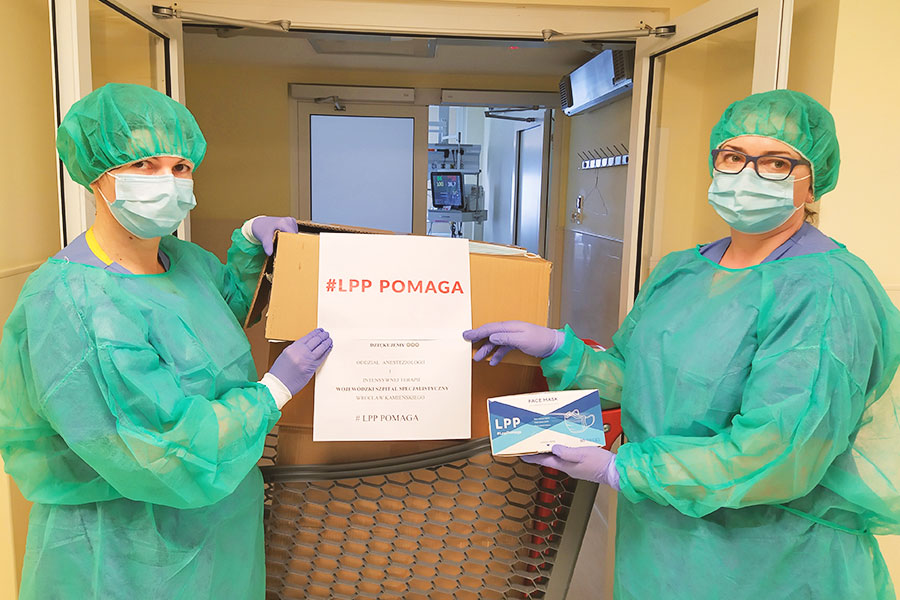 HELP FOR
HOSPITALS
As part of the second edition of the #LPPpomaga campaign, we donated almost 20,000 pieces of clothing and financial support in the total amount of nearly PLN 1.2 million to 9 locations in Pomerania and Cracow. We supported the 7th Naval Hospital in Gdańsk, COPERNICUS Hospitals in Gdańsk, University Center of Maritime and Tropical Medicine, Specialist Hospital in Kościerzyna and in Cracow: University Hospital, Specialist Hospital of S. Żeromski, Cracow Specialist Hospital of John Paul II, University Children's Hospital and Specialist Hospital of J. Dietl.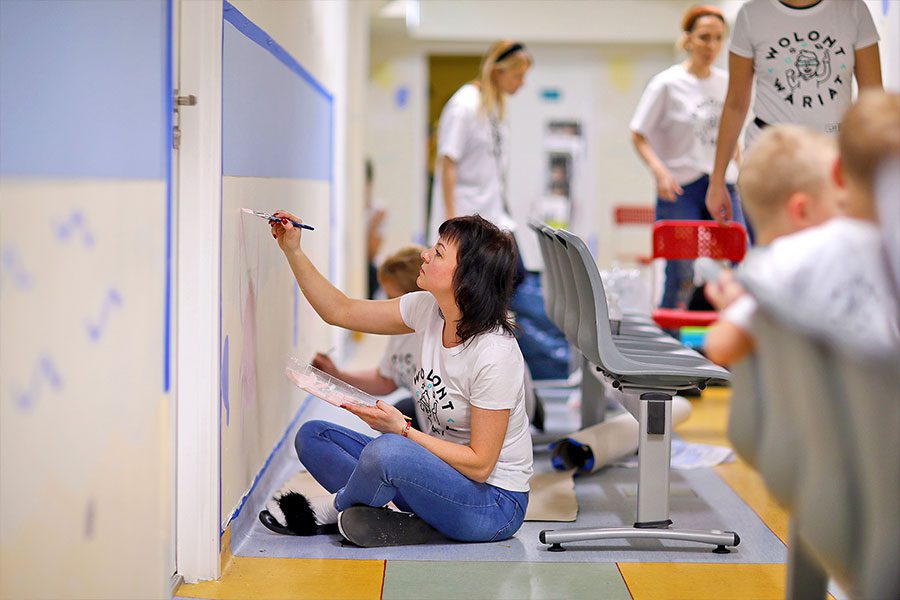 RENOVATION OF THE WAITING ROOM
FOR NIGHT AND CHRISTMAS HEALTH CARE
Our cooperation with the Polanki Children's Hospital in Gdańsk has been going on for several years and there is always no shortage of ideas for action. In 2019, with the financial support of the LPP Foundation, the corridor for the Night Health Care was renovated, and in 2020 our creative team finished these activities by decorating the renovated part of the hospital with fabulous paintings! The sad and neglected room, thanks to the work of our WolontWariaci team, has become a friendly seaside world, which can distract at least a little from the problems of little patients staying there.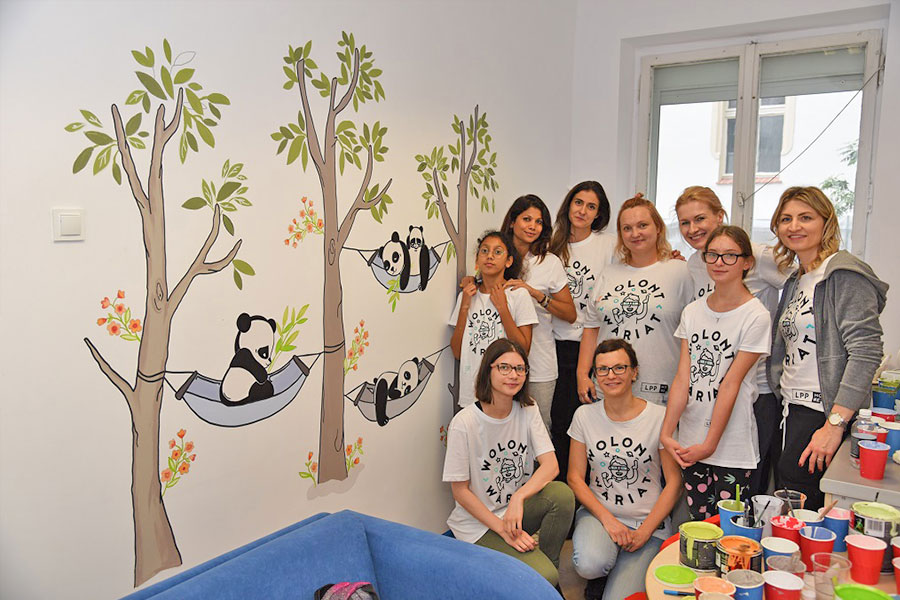 'FASCYNACJE'
FOUNDATION
Our cooperation began with the conversation about financial support in the renovation of the foundation's premises. Our WolontWariaci team carried out a metamorphosis of the therapeutic day-room and specialist offices. The Foundation's charges can now spend time and undergo therapies in friendly, cosy and beautiful spaces!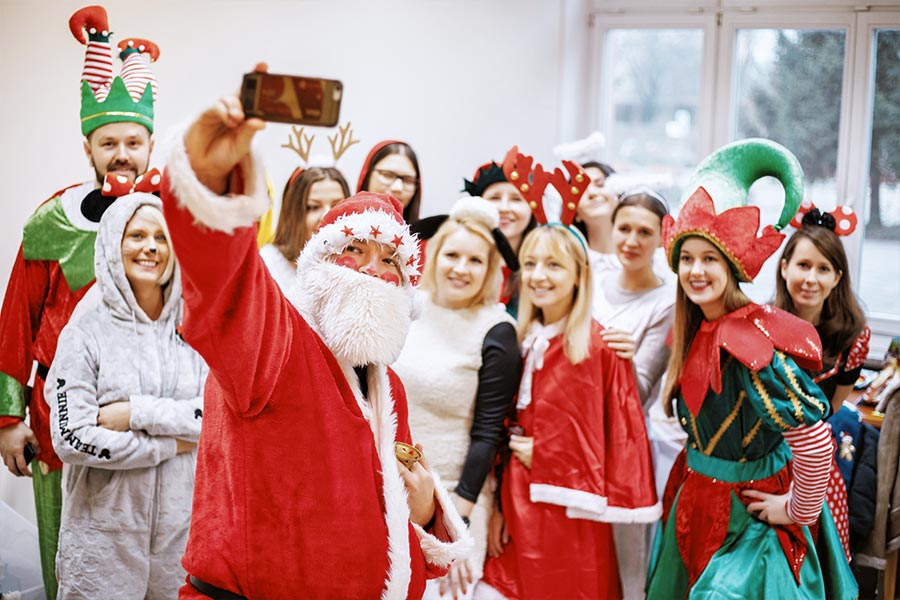 CHILDREN AND SAINT
NICHOLAS DAY
It is already a tradition that our employees play the role of fairy-tale characters and give gifts to little patients of the University Children's Hospital in Krakow. The initiative was also met with great joy by the children we visited for the first time at the Polish Association for People with Intellectual Disability in Gdańsk.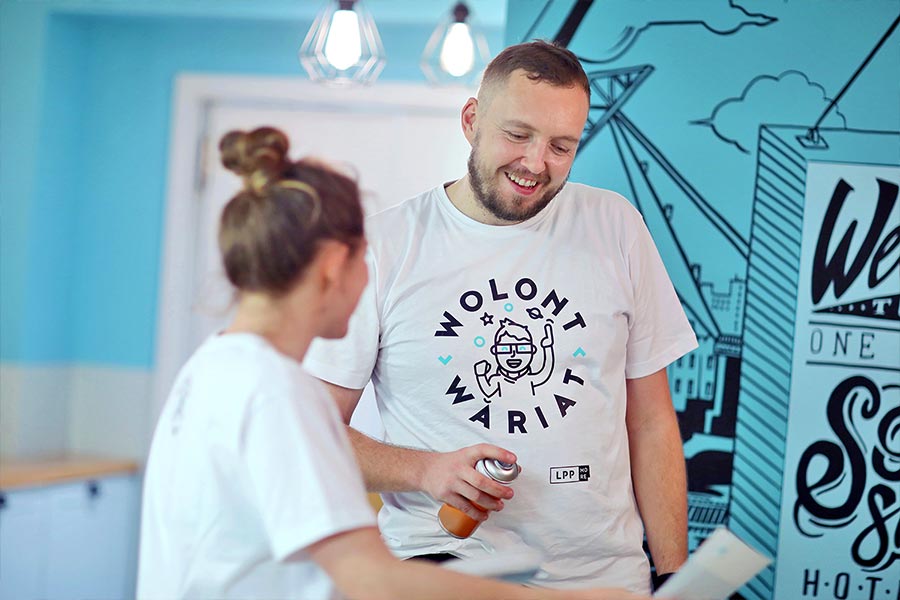 SO EAT RESTAURANT
REARRANGEMENT
We have designed and implemented the rearrangement of the restaurant, which operates on the principles of a social company and is a place where children from children's homes run by the Foundation for Social Innovation can start their first job, try to be independent and gain valuable experience that will pay off in the future.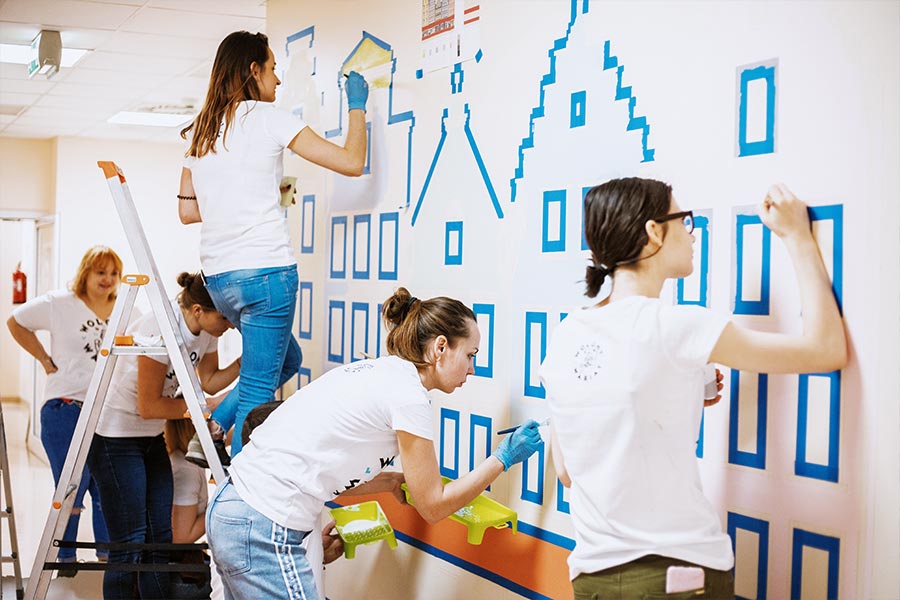 COPERNICUS
HOSPITAL
After the action of mounting colourful pictures on the ceiling of the Department of Anaesthesiology and Intensive Care for Children at the Copernicus Hospital in Gdańsk, in 2019 we returned to the same place to decorate the corridor. After two days of intensive work, Gdańsk tenement houses appeared on the wall – the local aspect has always been very important to us.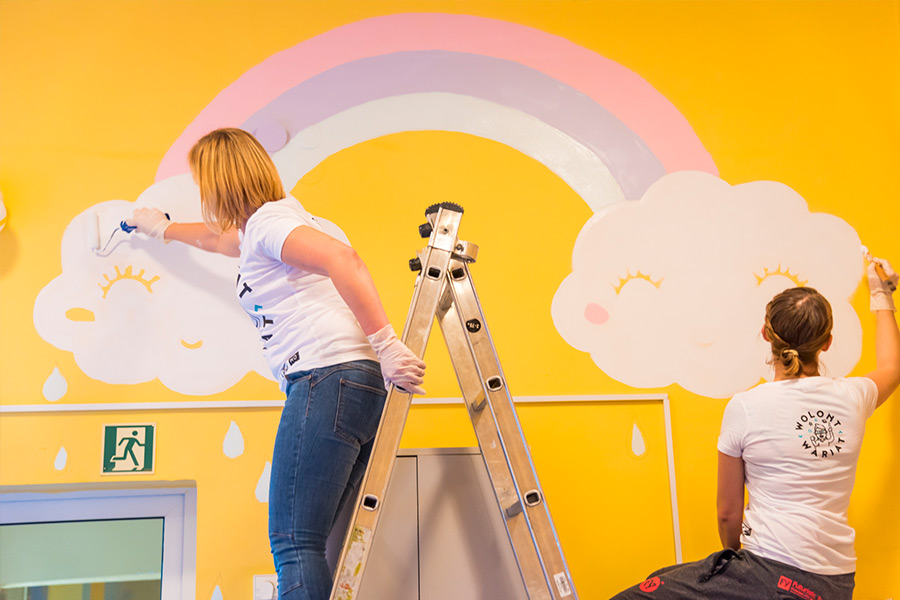 SUPPORT FOR CHILDREN'S
HEALTH FACILITIES
As part of the activities so far, we have painted 3 common rooms and renovated the cystic fibrosis treatment clinic at the Polanki Children's Hospital in Gdańsk, Fundacja z Pompą received support from us to equip the Department of Haematology and Children's Oncology of the University Clinical Center in Gdańsk. In Krakow, we regularly cooperate with the University Children's Hospital.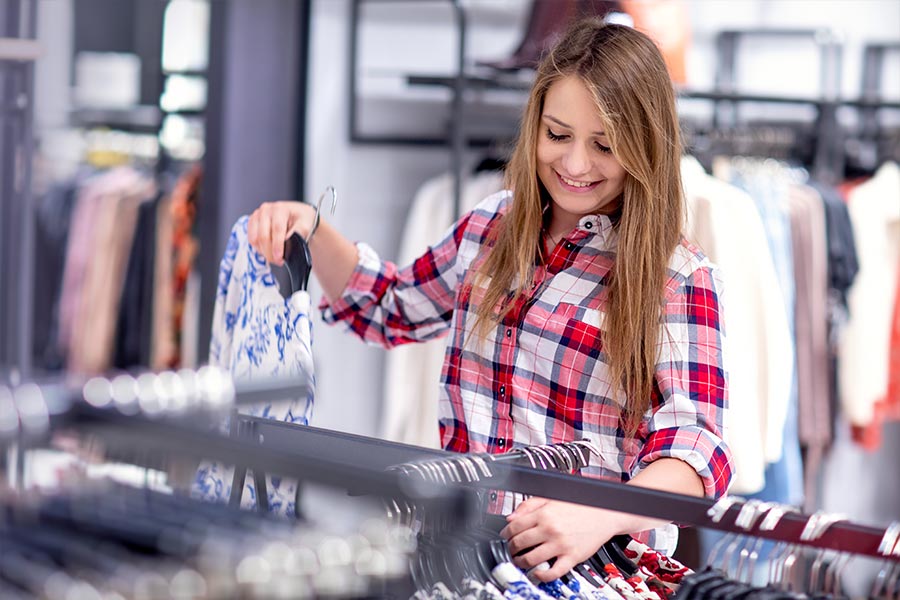 FIRST FITTING
Since 2017, as part of the "Pierwsza Przymiarka" ["First Fitting"] project, we help young people from children's homes learn the secrets of working in our industry and fell the fashion passion. We give them the opportunity to gain their first experiences on the labour market, so important when they are starting an independent life. Thanks to participation in the "Pierwsza Przymiarka", young employees gain professional competences in the field of work in a showroom at various positions. They also develop a number of social skills and build self-confidence. In 2020 and 2021, the project could not be implemented due to the pandemic, we plan to continue it in the coming years.