RELATING TO OUR
ENVIRONMENT CONSCIOUSLY
AND RESPONSIBLY
of plastics less
in our packaging
(since 2017)
of clothes produced in
Bangladesh and Pakistan
comply with ZDHC standards
ENVIRONMENT
Striving to create environmentally friendly fashion is an expression of our social responsibility.
The importance of climate issues in LPP's business strategy is confirmed by the B- grade in CDP Climate Change 2020,
higher than the industry, European and global average.
OUR SUSTAINABLE DEVELOPMENT STRATEGY
Our response to the climate challenge is the 2020-2025 Sustainable Development Strategy 'For People For Our Planet', integrated with the LPP business strategy. In it, we have set specific and measurable objectives related to our approach at each stage of the value chain.
We are implementing new solutions from the collection design stage, through selection of raw materials, cooperation with suppliers, logistics, to pro-environmental solutions in showrooms and e-commerce channels. We have also set ourselves pro-environmental goals regarding the management of the daily operation of our offices.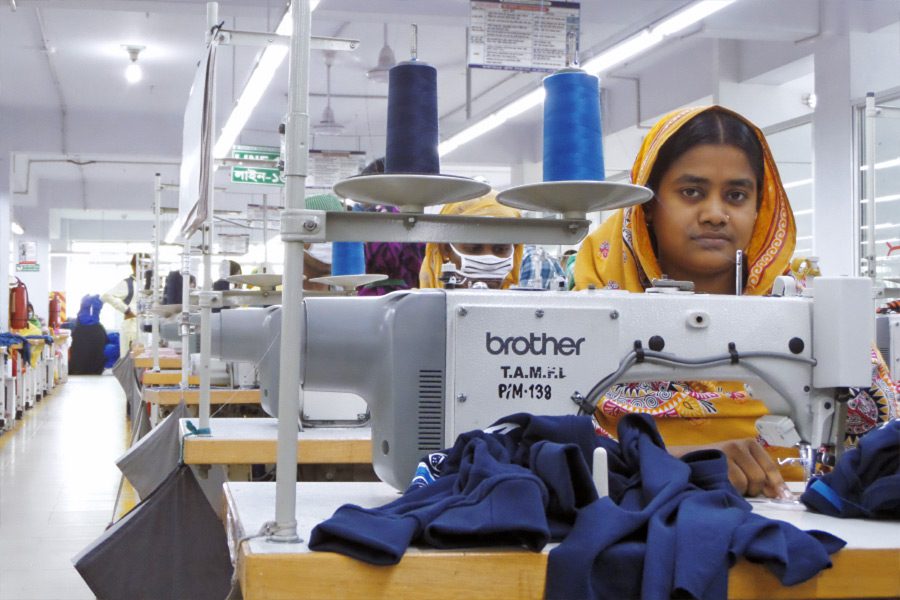 From the point of view of global environmental challenges in the case of the clothing industry, the way of sourcing raw materials and the production process taking into account the latest pro-ecological technological solutions are of particular importance.
We are developing our proprietary Eco Aware Production program, focusing on supporting our suppliers in implementing best practices that reduce the consumption of natural resources.
In 2021, already 30% of the factories sewing for LPP in South Asia were covered by the Eco Aware Production program. By 2023, this program will cover, inter alia, 100% jeans factories.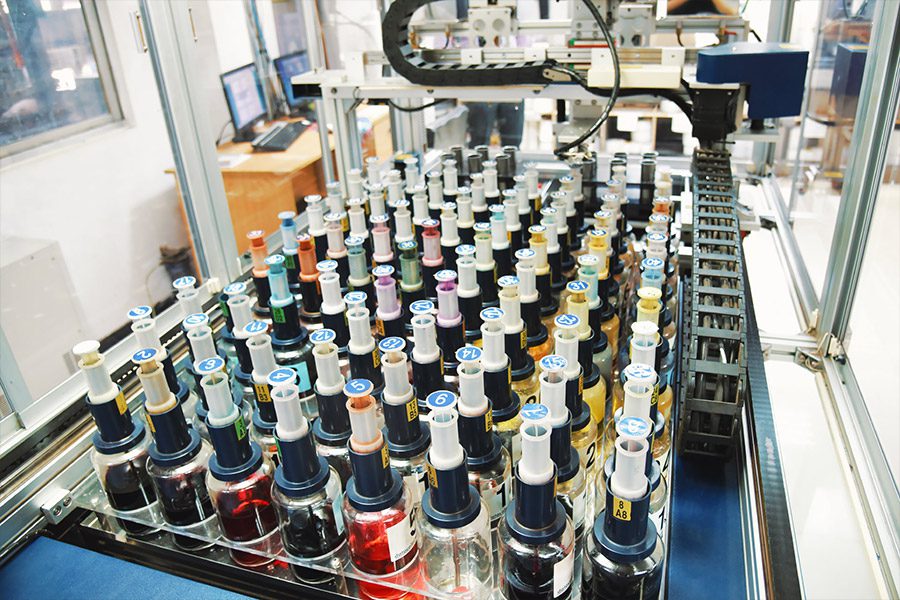 We were the first Polish company to join the Zero Discharge of Hazardous Chemicals (ZDHC) agreement, which aims to ensure chemical safety in garment production.
Achieving full compliance with the guidelines for the use of chemicals in our industry requires cooperation with many entities.
It is difficult to find a factory today that sews for only one customer, so only a joint effort of many companies will allow the development and implementation of standards that apply to all manufacturers.
An important action carried out by us in 2021 was the signing of an agreement under which, starting from 2023, FIGENE Energia will supply green energy to the majority of LPP office buildings in Poland and the Distribution Centre in Pruszcz Gdański for the next 10 years. This is one of the largest Power Purchase Agreement for renewable energy in Poland. FIGENE Energia is currently constructing an additional wind farm for this purpose. The estimated volume of energy necessary to meet the needs of LPP in this period is 358,000 MWh.
1
,
115
suppliers with
whom we cooperate
in creating our
collections
70
%
of factories producing
LPP brand collections in Pakistan
and Bangladesh are covered
by the ZDHC program
Since 2017, we have been reporting greenhouse gas emissions and developing the scope of reporting on this subject. In 2022, we included all scopes and all categories defined according to the GHG Protocol method for the first time.
• 4,420.67 t CO2e – Scope 1 emissions, including direct emissions related to fuel combustion and use of refrigerants in the company's buildings and vehicles.
• 11,985.14 t CO2e – emissions in scope 2, including indirect emissions related to the consumption of purchased electricity and heat in LPP buildings.
• 3,017,744.90 t CO2e – indirect emissions included in scope 3, related to the production and distribution of the purchased goods, delivery to the customer, use and disposal of the sold goods and the operation of the entire company in the areas other than those described in scope 1 and 2.
3
,
034
,
150
.
71
t CO2e is our total
carbon footprint for the period
02.2021-01.2022
1
.
15
t CO2e / PLN million
emissions from scope 1 and 2
calculated as revenue
Eco Aware has its roots in the first LPP sustainable development strategy and originally referred to selected activities of the green agenda in particular when designing collections. Over time, the concept has evolved to become a sign of LPP's environmental care in key processes, hence the Eco Aware Production or Eco Aware Stores standards.
In the 2021/22 financial year, Eco Aware collections accounted for 26% of the clothing produced by LPP.



| | Reserved | Cropp | House | Mohito | Sinsay |
| --- | --- | --- | --- | --- | --- |
| % share of Eco Aware collections | 38% | 20% | 28% | 28% | 20% |
Today, the Eco Aware standard for collections is based on two pillars: responsible production and systematically expanded range of environmentally friendly materials from verified sources.
All materials used in Eco Aware collections are either certified by an independent organisation or purchased from a supplier who owns the eco-friendly technology. Our employees are required to check the product's certification, confirm each purchase with LPP's sustainability department, and prepare appropriate documentation to confirm that the material used in production meets our standards.
Eco Aware is an extremely important objective in our sustainability strategy. We closely follow the raw material market and all innovations. We constantly strive to introduce environmentally friendly materials into our offer. Above all, we look for solutions that reduce the environmental impact of the fabrics and materials we use most often. We know that one of the milestones in reducing the environmental impact of the fashion industry is the widespread use of new fabrics.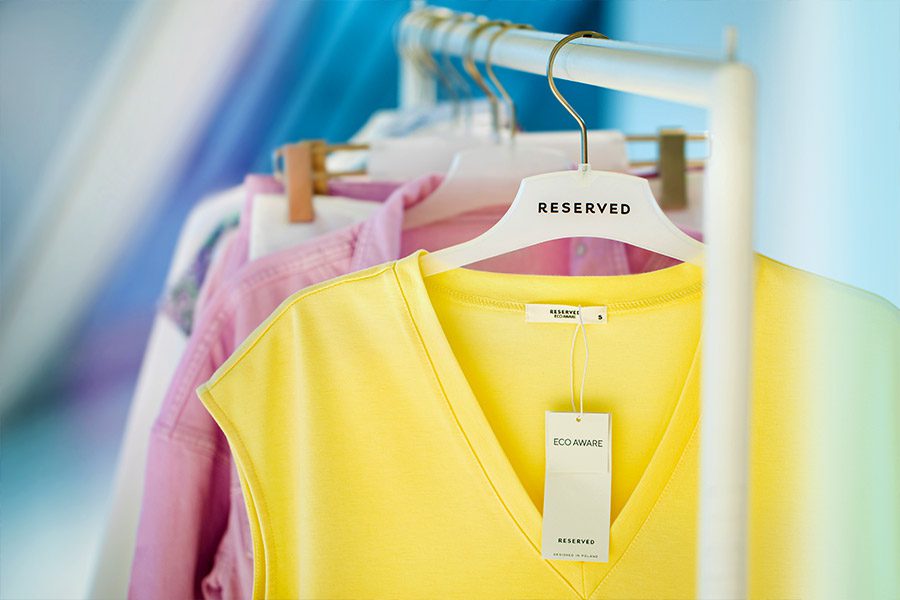 Eco Aware compliant materials:
Organic fibres such as the organic cotton commonly used in our collections.
Biodegradable cellulose fibres such as the Lenzing products.
Recycled fibres are certified based on international standards like the Recycled Claim Standard (RCS).
Other materials created to minimise the environmental impact of our business activities like water-based polyurethane collections.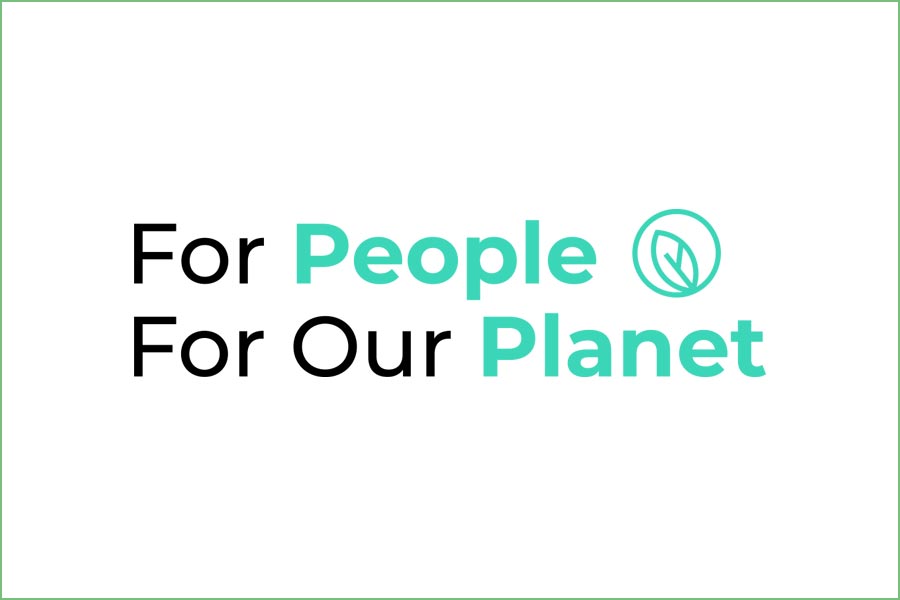 In our sustainability strategy 'For People for Our Planet', we set a target that by 2025 all plastic packaging we use will meet one of the following criteria:
100% reusable, recyclable or compostable.
This applies to packaging used in both stationary and online sales and logistics operations, including product shipments from suppliers.

From 2019, we are part of the New Plastics Economy Global Commitment, a global initiative set up by the Ellen MacArthur Foundation in partnership with the United Nations. The agreement brings together over 400 business and government representatives who are working to eliminate plastic waste and pollution.

In 2020, we joined the Polish Plastics Pact, a cross-sector platform bringing together participants in the plastics value chain from the packaging industry. As a signatory of the pact, we commit to rational plastic management towards a circular economy.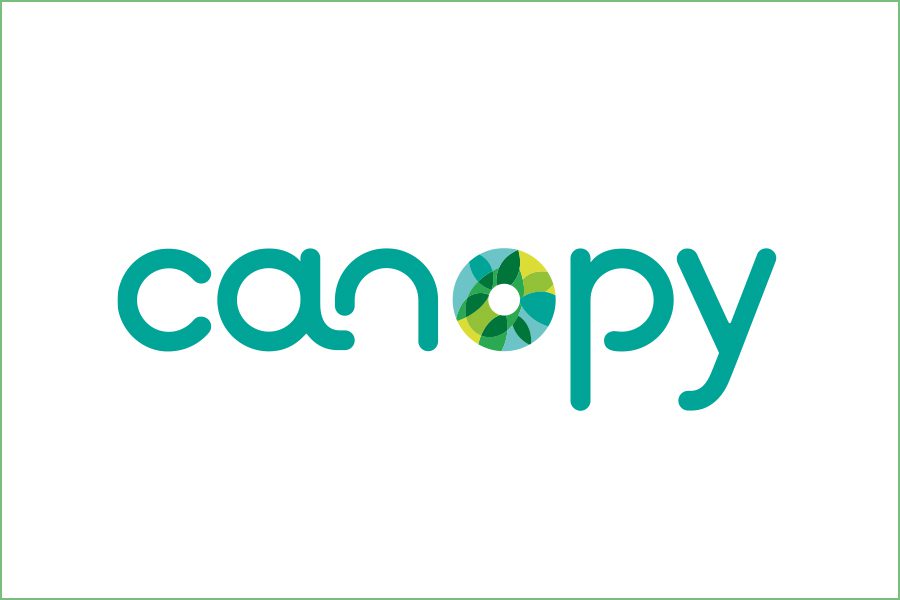 Since 2021, we have been working with Canopy, an organisation that implements business solutions for forest conservation together with major forest industry representatives and their suppliers. Their goal is to make the supply chain for paper, packaging and pulp fabric purchases more sustainable.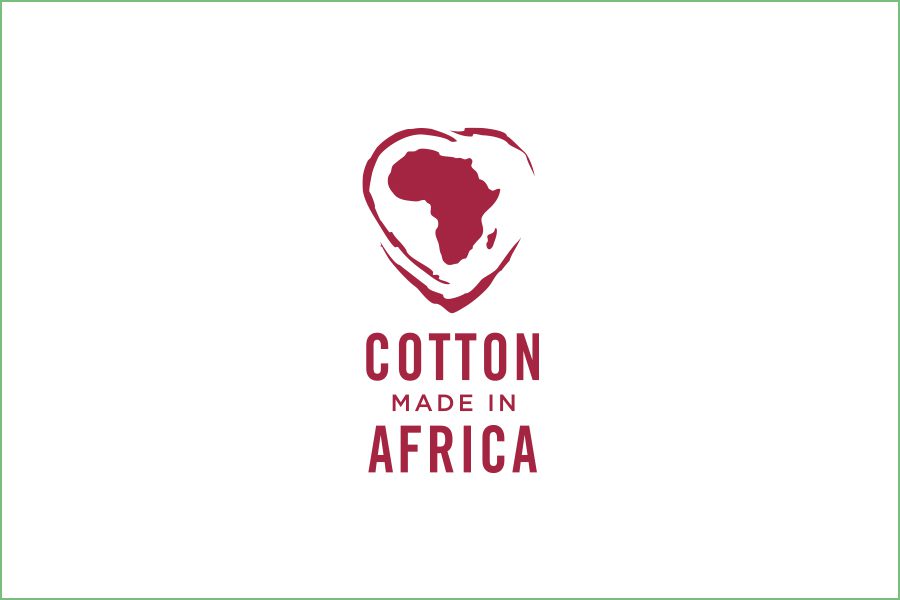 In 2021, we joined the Cotton made in Africa partners of the Aid by Trade Foundation. The project aims to implement an internationally recognised standard for sustainable cotton farming in Africa. Under the agreement, LPP has contracted to purchase cotton compliant with the CmiA standard, the quantity of which will allow for the production of as many as 60 million products with 95 to 100 per cent share of this raw material. This means that as many as 20% of the LPP brand collections scheduled for sale in 2022 will be made from sustainably sourced cotton.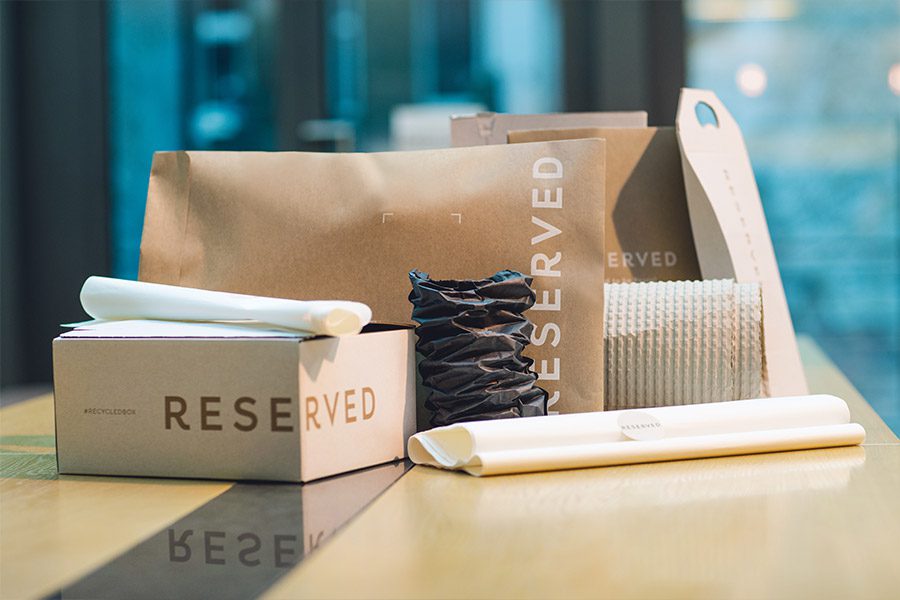 We have eliminated single-use plastic packaging for shipping online orders of Mohito and Reserved brands, and in the case of House, Cropp and Sinsay orders we use only recycled film.
We use recycled cardboard boxes only for Reserved and Mohito shipments and for large orders of the other brands.
We have completely given up on plastic fillers – we replaced bubble wrap with recycled corrugated paper, and airbags with paper accordions – also recycled.
1
,
015
tons
fewer of plastics
used by the LPP in the
last 5 years
50
%
of cardboard boxes returned for reuse in the distribution of goods, saving 17,000 trees from being cut down
in the 2021/22 financial year
100
%
recycled packaging
in Reserved and Mohito
e-commerce deliveries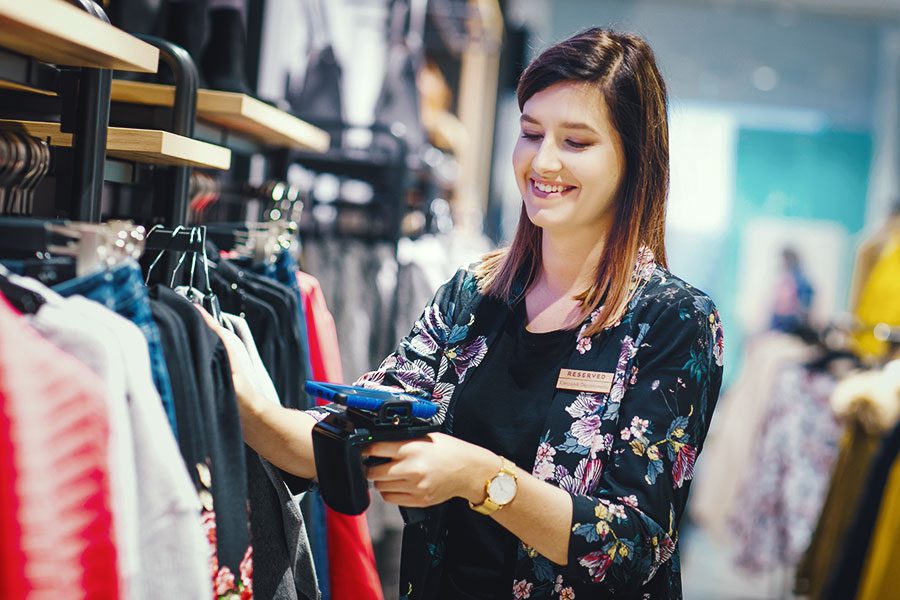 Investments in new technologies in showrooms concern not only products and customer service, but also solutions which significantly reduce LPP's impact on the environment.
We have begun implementing the Eco Aware Stores programme, which by 2025 will cover 100% of our brick-and-mortar shops. This means, above all, a significant reduction in energy consumption, which will translate directly into reduced emissions. In 2021, we started implementing the first pillar of control of utility consumption in showrooms, namely telemetry tools allowing us to monitor energy consumption in order to determine further steps towards greater energy efficiency. We are using additional temperature measurements in showrooms to optimise the operation of air conditioning systems and measuring water consumption. By the end of July 2022, we plan to have the system in place in around 600 showrooms.
We have started using the so-called Singu FM system for managing and maintaining showrooms traffic, which is the second pillar of our activities. The system makes it possible to collect and then analyse data, including in real time, to schedule maintenance based on the current state of the installation and to plan and implement preventive maintenance. The ability to analyse alerts more accurately in the event of operating anomalies, allows us to react quickly and reduce unnecessary energy consumption.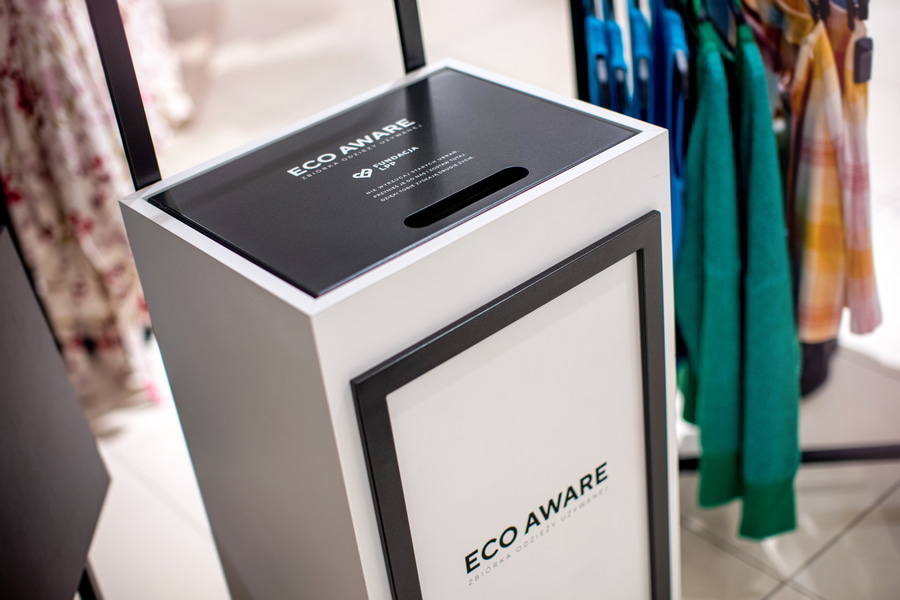 At LPP we start with ourselves when introducing changes. At the same time we are committed to implementing the idea of sustainable development among consumers. The collection of second-hand clothes in our shops, which is then passed on to disadvantaged people, allows us to fulfil our social mission and reduce our environmental impact.
Customers of all stores in Poland bring clothes with any label and leave them in specially marked containers or directly to the sales assistant. The clothing collected in this way goes to be sorted by the Towarzystwo Pomocy im. Św. Brata Alberta, and is then donated to people in need across Poland.
all
Reserved, Cropp, House,
Mohito and Sinsay
stores in Poland currently collect
used clothes
800
pairs of shoes were collected
and, after disinfecting, handed over to
charities in Warsaw, Krakow and Gdańsk
8
.
3
tons
of clothing collected
since 2018 and donated
for reuse